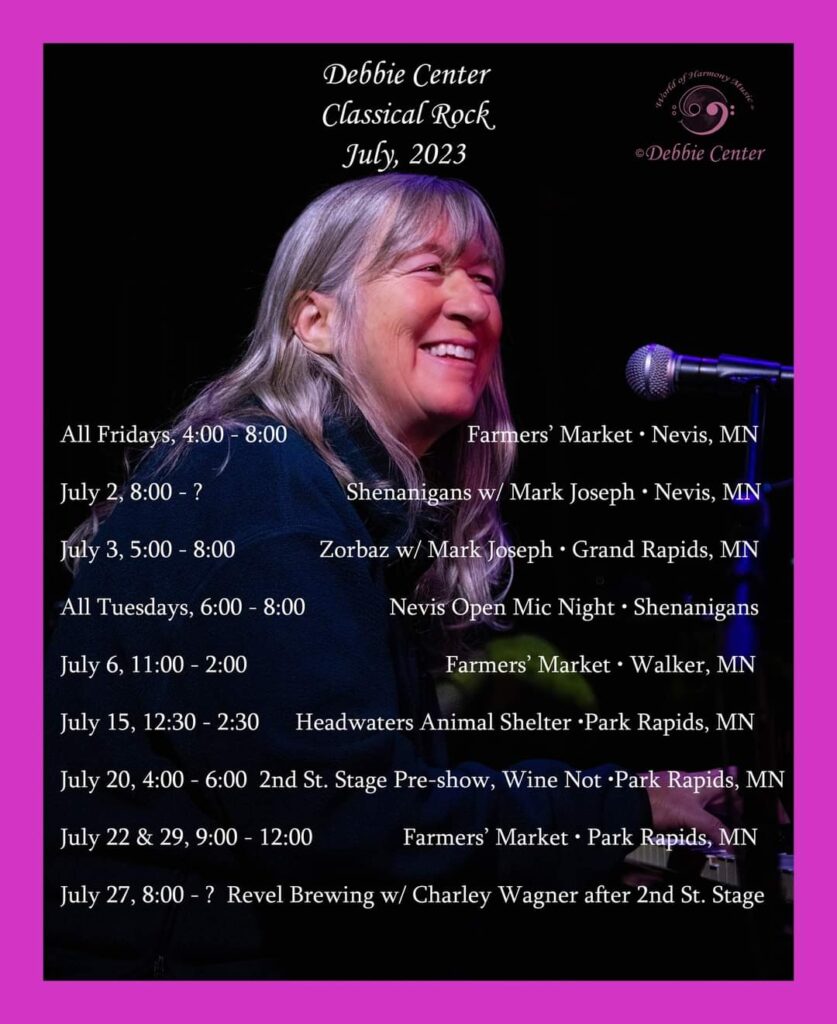 Debbie Center coined the term "Classical Rock Pianist" to describe her unique blend of a lifetime of classical training with her deep passion for improvisation, creating soul-stirring interpretations of classic and psychedelic rock music. Some of her favorites are the Grateful Dead, Beatles, Jethro Tull, Led Zeppelin, Queen, Moody Blues, Stevie Wonder, Elton John, Billy Joel, and many more. She performs with numerous other musicians throughout Minnesota in addition to her solo piano concerts. Debbie also composes original piano music inspired by the wildlife, scenery, and northern lights of her beloved home in Nevis, Minnesota.
For booking information, contact Debbie at [email protected]
"Debbie Center is one of my favorite musicians to work with. She always has such amazing energy and it shines wildly through her music. Classical piano roots to improvisation of the highest accord. It's very rare to find both qualities in a musician and usually it's one or the other, Debbie does both with ease. Her kind and positive attitude paired with her musical ability also continues to elevate her into new musical heights, I'm excited to see where her musical journey will lead! I'm a big fan."
– Mark Joseph (The Big Wu / The Dire Wolves)
"Debbie Center is a treasured citizen in the arts community with her passions and endless commitment. I moved to her area after having a 40 year career in the music world of the Twin Cities. Our chance meeting turned out to be a wonderful collaboration of two worlds that only an open minded, creative and experienced musician could attempt and succeed in doing. She invites other players to participate in and expand her unique style of music with joy. She is eager to step into other's musical space with her additions of skilled lines and improvisation with regard to the desired effect. Collaborating sax and piano challenged us to enter each other's styles with excitement and exploration. She crossed into my pop, funky and jazz world and let me add colors to her "classical rock". Her future is bright! Best to you Debbie!!"
– Doug Kuehn
"If you are a bar/restaurant/venue owner and you want a sure way to fill your establishment, you need to hire Debbie Center! I have had the privilege of having Debbie play at my Wine Bar multiple times, and she continually fills every seat and puts on a show that leaves everyone wanting more! She has a strong following of fans who will come listen to her wherever she goes. Debbie is an extremely talented pianist and knows how to connect with her audience using her beautiful renditions of songs, her sense of humor, kindness, and humility. Her improvisation skills are second to none and her ability to play just about anything by ear is extraordinary! I will continue to hire Debbie for as long as she wants to keep playing here!"
– Karen Acker, Owner of Wine Not? Park Rapids, Minnesota
"I randomly met Debbie Center the painter at an art show as I was setting up for a gig. She is a renaissance woman. Debbie first dazzled me with her paintings of the northern lights, then with her piano next to her, she asked if she could play a few songs with me …. as every musician knows this could go good or bad but sometimes the risk is worth it. I played some basic covers. Astounding, she knows what she's doing! I played some trickier songs, no problem. I played my originals that she's never heard like we've been playing for years!! I'll never forget that first show. Debbie Center the musician is a gentle, kind soul with the passion and talent good musicians dream to aspire to. Truly a gift to play with, also a gift to kick back and listen and watch as her fingers gracefully move through those keys like the curtains of our cherished northern lights. My name is Charley Wagner, local singer songwriter back home after a 20 year jaunt in CO. I've played locally as a solo guy, with friends and with different bands over the years. I've had the chance to play with some great musicians over the years. Randomly one day I met Debbie…….
With thankfulness, Charley Wagner"