Debbie Center also enjoys traveling the world to share her program with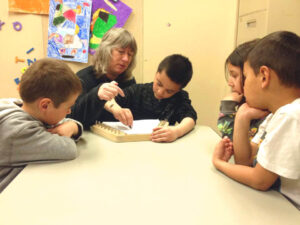 students and teachers alike. In April, 2014, she spent a week on tiny Adak, Alaska, teaching in a school which had never been able to include music in their curriculum. It was an incredible week for everyone involved, and was an experience that Debbie would love to provide for other schools around the world! Contact Debbie to discuss bringing her to your school. Here's what the teachers and parents said about her visit:
Adak Public School
World of Harmony Zither Project Narrative
28 April – 3 May 2014
Debbie Center, founder of the World of Harmony Music program and creator of bound sheet-music books
custom designed for zithers and incorporating educational materials, graciously came to Adak to
introduce her curriculum to our students and teachers. She offered us a special
discount on her books, and enabled us to purchase beautiful, hand-crafted zithers at a very generous discount. Our primary objectives were 1) to give the students hands-on experience with a new and instantly gratifying musical instrument, fostering enthusiasm for music and an eagerness to learn more, and 2) to acquire the materials and knowledge to enable teachers and parent volunteers to carry on with Debbie's curriculum after her departure, incorporating music as a regular and sustainable part of the school day.
Our goals were not only met but exceeded. Debbie's zither lessons with the younger students were hugely
successful, and all the kids were very enthusiastic about having music class. She spent about 20 contact hours
with students ranging from preschool to 12th grade, but focused mainly on the K-4th primary students, doing
daily half-hour sessions with groups of no more than five students. Intensive special needs students were
normally accompanied by an aide and just one other classmate. Debbie began each class with a solfege warm-up
exercise, followed by basic instruction in notation and rhythm. Debbie tailored her approach to the
developmental level of each class, and included a mix of traditional children's songs and classical pieces, with
an engaging story to put each piece in historical and cultural context and introduce composers in a memorable
way. The students learned to sing children's songs in many languages, and also sang Debbie's made-up words to
famous classical themes, which gave the kids a fun way to recognize pieces and think about the moods they
evoke. Students learned to discern minor and major keys, to hear the difference between intervals ("steps and
skips"), and to help each other count rhythms while playing. Her patience and cheerfulness allowed even the
most hesitant and impulsive students to succeed, and everyone really enjoyed the sessions. At the end of the
week we held a mini recital, where the children performed duets of their choice with Debbie for the audience. It
was really wonderful to see kids who'd never played any musical instrument before performing beautifully after
just a week of experience.
Debbie's guidance and teaching materials gave us the resources and experience to commit to continuing with
her curriculum next school year, which will allow zither playing to become a regular part of the primary
students' school week. Volunteer Lisa Spitler attended all Debbie's sessions with students and gained the
confidence to continue working with the K-4th students after Debbie's departure.
Debbie's visit exceeded our goals and expectations in a number of ways. In addition to introducing the zither to
all the children, Debbie was able to provide the secondary students, who've been learning recorder and ukulele,
with a couple of lessons in advanced music theory (along with an awe-inspiring demonstration of a more
sophisticated approach to zither playing, using her arrangements of Grateful Dead songs, which include chords
and harmony as well as the melodic line and complex rhythms). As a professional pianist, who performs and
composes in addition to giving piano lessons, Debbie also greatly inspired students with her piano playing. One
fourth grader crowed at the end of an impressive performance, "I want to be a piano player when I grow up!!!"
A whole group of boys burst into song when she played the theme to a popular film. Several students expressed
a sincere interest in taking piano lessons, and Debbie introduced us to resources that may make lessons a
possibility, in spite of the absence of a piano teacher on Adak and the limitations of internet bandwidth and
speed. Debbie also graciously volunteered to perform on piano for the community, playing her own
compositions, a selection of classical pieces, and some popular music that resonated with the students.
Students and teachers were very pleased with and supportive of the program.
Comments from the Adak Public School staff:
Julie K. Plummer, Head Teacher, Special Education Teacher: "Recently Debbie Center completed a week-long
musical workshop at our school. Her World of Harmony instruction incorporated a variety of world culture and
languages into the origins of musical compositions each day before the students learned to play the pieces on the
zither. Debbie enthusiastically told stories to the students which both explained the background of famous
composers (such as Beethoven) and took them on trips to different locations in the world. This daily
introduction, as well as the mini lessons she taught on music theory (notation) seemed to open the door to
wonderful musical experiences accessible to all our students. In addition, Debbie performed (on the piano) for
children and other community members, which was also spectacular! I am very excited to continue the
experience (with Lisa Spitler's help) in the future – both zither instruction and exploring musical activities with
the electronic keyboard and other musical/technological applications.
Ivan Hodes, teacher for the secondary students: "Debbie's visit enriched the music experience of my students in
the 5th through 12th grade. They enjoyed learning about and making music with the zither. My students also
had the opportunity to learn some advanced music theory from Debbie, which I would not have been able to
provide on my own; this enhanced their music literacy. Debbie was very successful at engaging my students
with both piano and zither instruction!"
Lisa Spitler, parent volunteer: "I have always been a firm believer in the importance of music in education, but
until Debbie's visit it has been a belief based solely on theory, as I'd never experienced music in a school setting
before. It was astounding to see the changes that came over students as the music classes progressed. One girl
began by not wanting even to try, claiming, "I can't do anything. It's too hard." At the end of the second week
she was eager to be first to play and was not daunted by pieces that looked complicated. A boy who seemed
incapable of paying attention finally focused long enough to count a rhythm; the light in his eyes as he realized
he'd gotten it was incredible. A rowdy bunch of 3rd and 4th graders went from barely contained chaos to
determined focus as they strived to listen to each other carefully enough to play in unison, to earn the reward of
adding a harmony part to the ensemble—the sheer love of hearing how beautiful it sounded proved to be great
motivation! Perhaps most rewarding was to see how wonderfully the three intensive special needs students
responded; they were eager to play as much as they could, albeit with three entirely different approaches: one
was analytical and precise, another self-soothing, another bursting with song. Having Debbie here was
invaluable to me, as someone committed to getting music into the school but with no practical experience.
Seeing her techniques for helping students understand things—different in each circumstance—and soaking up
as much of her teaching approach as I could in one short week has given me the confidence to continue with her
program.