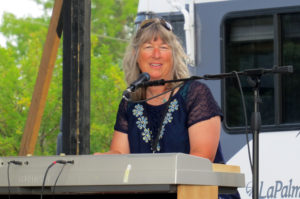 Welcome to World of Harmony Music & Art. I'm Debbie Center, artist and musician, and I truly believe that my mission in life is to help create a world of harmony through my art and music, and to help others do so with me. Playing music is one of my favorite things in the world, and I simply adore the fact that the zither can be easily played by people of all ages and abilities so that they, too, can experience the kind of bliss I feel daily. This is truly the heart of why I published my zither music books. Music is a universal language which allows us to instantly bond with people all over the world, regardless of their spoken language, culture, or beliefs. What a perfect way to create a world of harmony together, you know?
Here in tiny Nevis, Minnesota, the ever-changing, stunningly beautiful scenery and wildlife inspire me daily, and I'm eternally grateful to call this place home. I love sharing the bliss found in my corner of our world with others, and it is my hope that my work will help you to admire our world more, too.
At World of Harmony Music & Art, you'll find zither and piano music books, downloadable sheet music and recordings, hand-painted artwork, and nature photography. If you'd like to play music, give someone a treasured gift of music or art, or teach others to play music, you've come to the right place, and I'm so glad you're here. I also play piano in several different projects as well as solo gigs. To see me performing and learn about booking me for your event or venue, please visit Debbie Center Piano Performance Videos.
World of Harmony Music is a fun and easy way to learn about and play classical music, modern music, and folk tunes of various cultures, all through playing a simple, beautiful instrument called a zither.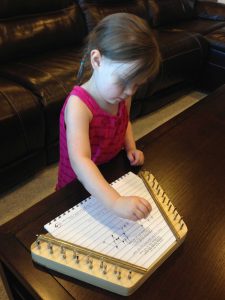 There are nine different books to choose from, ranging from easy folk tunes, hymns, Jewish favorites, Appalachian music, Christmas music, and even two collections, "Fall / Winter", and "Winter / Spring", which are organized for a year of classes with a large variety of classical and holiday music. Each classical music sheet has the music notes and my educational lyrics on one side of the sheet, and a "flip side" on the other. The "flip side" presents many fun and interesting facts about the composer and his music, making the lesson easy to learn, and easy to teach. Just turn the wire-bound book to the page you want to play and place the entire book under the strings of the zither, (also called a lap harp, cymbala, yerbonitsa, or plucked psaltery.) Pluck the strings in the order shown on the sheet music and enjoy immediate success playing music! Learn more about the Zither.
Amazing Experiences with Special Needs Kids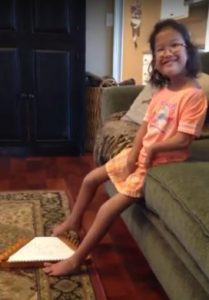 I was presenting my program at the Great Homeschool Conference when this beautiful little girl named Lily caught my eye. I noticed that she had limited use of her hands, and that Still Small Voice nearly screamed at me, "GO GET HER!" I'm big on listening to that call, so I asked her if she'd like to try playing our instruments. She could immediately play "Silent Night", and there wasn't a dry eye in the house! I will never, EVER forget Lily. She has a condition called arthrogryposis multiplex congenital, which causes the joints and muscles in her arms and legs to be underdeveloped and or stuck. Here's the video of that unforgettable experience. A few days later, her mom sent me this video where she's actually playing the zither with her toes! WOW, how amazing is that? Update: We got to see Lily again in March, 2018, and her abilities on her zither are just amazing! Here's a video of Lily using her feet to select "Go Tell It on the Mountain". She then inserts the book into the zither and beautifully plays the music while holding the pick between her toes! This kid just wows me every time.
I have had incredible experiences with autistic children as well. The mother of an autistic girl left me an unforgettable message on my phone, sharing with me how amazing the zither is for her little daughter.